Flow Cytometry
Tags: Flow Cytometry, Research
Flow cytometry is a laser-based technique that analyzes cell populations in suspension. Flow cytometry analyses can simultaneously detect several biochemical parameters at rates up to thousands of cells per second.
Instruments
BD Influx Sorter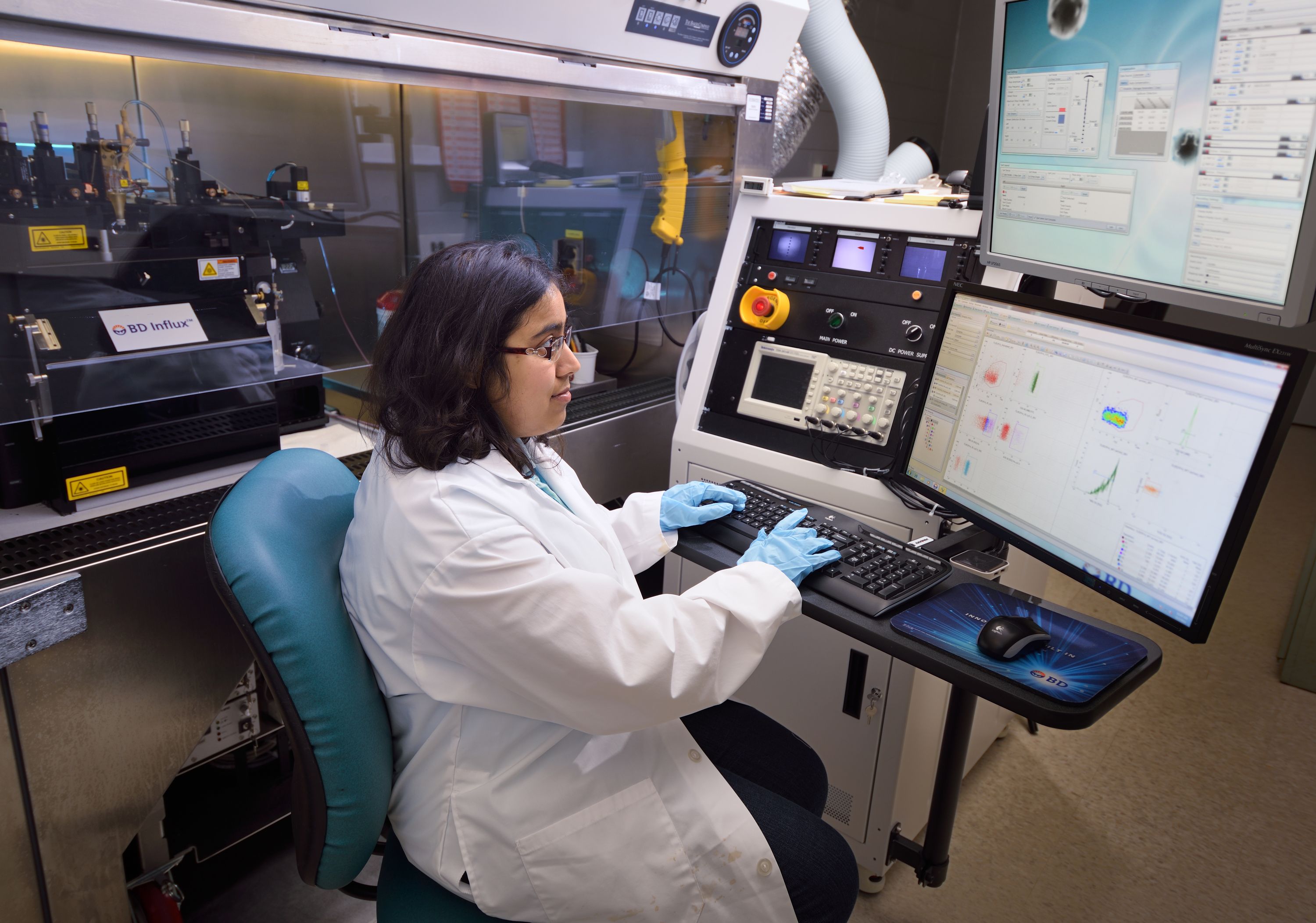 The Influx Sorter can detect up to 14 colors with a maximum of 16 parameters. Forward scatter is collected from a high sensitivity detector unit with resolution slightly below 0.2 um. The machine can sort up to 4 selected populations. Sorted cells may be collected into a variety of tubes or plates.
LSR II
The LSR II (Flow Cytometer Analyzer) can detect 9 colors with a maximum of 11 parameters and is used for analysis only. All parameters are correlated and analyzed simultaneously. Cells can be characterized simultaneously through the detection of fluorescent probes for nuclear ploidy, cell cycle, apoptotic state, expression of the plasma membrane, cytoplasmic and nuclear proteins and other cellular characteristics. The laser excitation lines and common fluorochromes excited are:
488 - FITC, PE, PerCp-Cy5, PE-Cy7. Other fluorochrome combinations are available at the PerCp-Cy5 detector. GFP, YFP or RFP reporter proteins can also be detected.
405 - AmCyan, Pacifici Blue.
640 - APC, Alexa 700, APC-Cy7
Researchers save their data and analyze it using the Verity software line for post-acquisition data analysis. Both flow cytometers are equipped with digital data acquisition electronics and DIVA data acquisition software.
The flow core has been used to study cells from many origins: bacteria, plant protoplasts, plant and fungi nuclei, cultured cells, and primary cells from many animal organ and immune systems.
Analysis
Apoptotic cell death
Cell proliferation
Cell ploidy
Cell integrity
Cell activation and signaling
Cell function
Cell transformation or transfection
Changes in plasma membrane fluidity
Expression of plasma membrane surface proteins, receptors, or adhesion molecules.
Expression of cytoplasmic enzymes, hormone receptors, and transport proteins
Specific sample preparation information
A table is included to compare the BD Influx Sorter and LSR II flow cytometers. This table gives a list of the most common fluorochromes used but others are possible. An experimental set of tubes must include one unstained sample and one sample positive for each individual fluorochrome used in the experiment. You may also need a set of tubes that includes all possible combinations of fluorochromes leaving out 1 color at a time. The machines work best with Falcon 12x75 mm tubes. Cell density for analysis should be 1 million cells/ml with a minimum volume of 300 ul. Dr. King will provide technical assistance for protocol development and data analysis as requested.
Which cytomer should you use?
Post-acquisition data analysis
Verity Software House WinList 7 and Modfit 3.3
FCS Express 3.0
Pricing
Service
Price

Influx Analysis and Sorting
Setup Fee

$42/hr
$42

LSR2 Sample Runs
Setup Fee

$21/hr
$5.25

FACS Analysis

$20/hr
(1 hr minimum)

PC Workstation: Software and Printing

$20/hr

Experimental Design Consultation & Data Analysis

$20/hr
Instrument Locations
BD Influx Sorter
5115 Biomed Phys Sci
LSR II
5115 Biomed Phys Sci