Mass Spec Welcomes Tony Schilmiller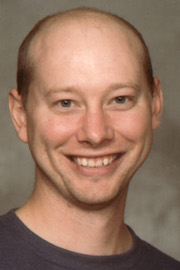 The RTSF Mass Spectrometry and Metabolomics Core welcomes Tony Schilmiller to the facility staff as the new Assistant Core Manager.
Tony received his B.S. in biochemistry from Purdue University in 2000 where he did undergraduate research on phenylpropanoid metabolism in Arabidopsis. He received his Ph.D. from Michigan State University in 2005 studying the biosynthesis of jasmonic acid and other oxylipins in tomato and Arabidopsis in the lab of Dr. Gregg Howe. In 2006, Tony joined the lab of Dr. Robert Last at MSU to do postdoctoral work on understanding specialized metabolism in tomato trichomes. During his postdoctoral research, Tony was a frequent user of several instruments in the Mass Spectrometry and Metabolomics Core, and starting on Sept. 1, 2015 Tony joined the facility as Assistant Manager.
Tony can be contacted at the Mass Spec Facility or via email.
Share this story