IVIS Spectrum Imaging Core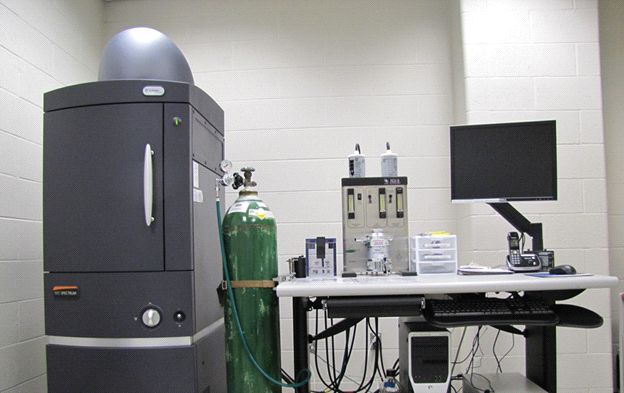 IVIS Spectrum Imaging Core
Non-invasive in vivo imaging allows researchers to sequentially image animals over time yielding valuable information on disease progression, cell trafficking and gene expression patterns in living animals. The RTSF IVIS Spectrum Imaging Core at Michigan State University is a versatile, advanced in vivo bioluminescent and fluorescent pre-clinical imaging system that combines high-throughput and full tomographic optical imaging in one platform. It has applications in many fields of research - such as oncology, stem cell research, infectious disease, toxicology, gene therapy, neurology, drug metabolism, immunology and transplant biology. Training with the XFM-2 fluorescence and XPM-2 bioluminescence mouse phantoms is provided to each researcher to enable proper use and understanding of the IVIS Spectrum and Living Image software. We can provide assistance with many different techniques as well as experimental design and protocol development. We also provide information for grants (letters of support, information for vertebrate animal sections), and for Animal use Forms (AUF).

Instrumentation/Services
The IVIS Spectrum System provides the following:
A light-tight imaging chamber for quantitative bioluminescent and fluorescent imaging in vivo and in vitro.
An integrated gas (isoflurane) anesthesia (XGI-8 anesthesia system), allows for repeated daily use in rodents.
A heated stage, to help maintain body temperature during imaging.
High throughput, image up to 5 mice at a time.
A versatile field of view allows imaging ranging from single cells to 5 whole animals.
The Imaging Wizard guides the user through imaging set-up and acquisition.

Narrowband excitation and emission filters and spectral unmixing algorithms allow spectral scanning over blue to near-infrared wavelengths.

Multispectral imaging and advanced spectral unmixing algorithms allow visualization of multiple reporters (bioluminescent and/or fluorescent) in the same animal.
An XIC-3 animal isolation chamber provides biological isolation of anesthetized animals during imaging.
Living Image 4.0 software allows 3D reconstruction and quantitation of optical signals (number of cells or dye concentration) for both bioluminescent and fluorescent sources.
Co-registration with the digital "mouse atlas" (or other imaging modalities) provides an anatomical context of reconstructed optical data.
Materials Available to Researchers
IVIS cleaning supplies: Sporicidin, MilliQ water, 70% Ethanol
Kim Wipes
Isoflurane (with bottle key adapters)
Oxygen tanks for the XGI-8 anesthesia machine and LEI Medical table top anesthesia machine
Black Artagain paper
F-Air canisters
For the XIC-3 Animal Isolation Chamber: optical lens solution, lint-free optical wipes
Germicidal Wipes
Other Information
Adjoining animal room (286 sq. ft.) with Innovive Disposable IVC Caging system.
6 ft. NuAire class II type A2 biosafety cabinet.
Lei bench top (isoflurane) anesthesia machine for animal manipulations/procedures prior to imaging with the IVIS Spectrum.
Scheduling calendar for room/equipment reservation.
Authorized access to the facility.
Lab designated login and password for the IVIS Spectrum
For more information or to tour the facility, contact Dr. Sandra O'Reilly (rtsf.ivis@msu.edu).
Pricing
The IVIS Spectrum Imaging Core works on a re-charge system. Costs can vary depending on whether assistance is required for imaging.
All off-campus customers are subject to a 2% University Administrative Fee.